Bacterial Cell Structures and Treatments 1
Bacterial Cell Structures and Treatments 1
Bacterial Cell Structures and Treatments 1
1 of 19
Bacterial Cell Envelope
The cell envelope usually consists of two components:

an outer cell wall or peptidoglycan (gram-positive and gram-negative)

a cytoplasmic or plasma membrane (gram-positive and gram-negative)

an outer membrane (gram-negative only)

The cell wall (peptidoglycan) is chemically inert (unreactive). It is composed of sub-units found nowhere else in nature.

The cell envelope of gram-negative bacteria can produce symptoms of disease (endotoxins).

The site of action of some of the most effective chemotherapeutic antibiotics is the cell wall peptidoglycan.
2 of 19
Bacterial Cell Envelope
3 of 19
Gram-Staining
Distinguishing between the different cell envelope

The gram-stain played a major role in classifying bacteria

Two major groups

gram-positive

gram-negative

Gram refers to staining procedures (Christian Gram)

based on the cell wall structure of bacteria

important for susceptibility to osmotic pressure, antibiotics, etc.
4 of 19
Gram-Staining
Involves three different chemical reagents

the primary stain (crystal violet)

Gram's iodine (mordant) forms an insoluble complex by binding to the primary stain

The decolourising agent (ethanol 95%) which acts as a lipid solvent as well as protein-dehydrating agent

The counter stain (safranin)

In gram-positive, the low lipid concentration is important for the retention of the complex iodine-crystal violet: cell remains blue

In gram-negative, the high lipid concentration found in the outer layers of the cell wall is dissolved which facilitates the release of the iodine-crystal violet complex leaving the cell colourless
5 of 19
Gram-Positive and Gram-Negative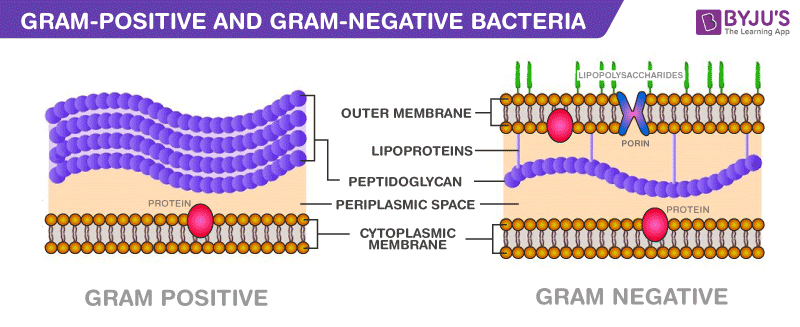 6 of 19
Cell Wall Peptidoglycan
The cell wall peptidoglycan is a rigid structure which gives shape to the bacterium

The wall also prevents osmotic rupture of the protoplast in dilute solutions

When no cell wall remains the whole structure is called a protoplast - protoplasts always assume a spherical form even when derived from rod-shaped organisms

The protoplast accounts for 60-80% of the dry weight of the whole cell

When part of the cell wall remains attached to the protoplast the whole structure is called a spheroplast
7 of 19
Cell Wall Peptidoglycan
The peptidoglycan, which is the backbone of the cell wall, is a macromolecule consisting of two major sub-units (amino sugars) and amino acids

N-acetyl-muramic acid and N-acetyl-glucosamine that alternate to form a high molecular weight polymer

a chain of several amino acids is attached to each of the N-acetyl-muramic acid molecules

The bacterial cell wall is a three-dimensional rigid, multilayered network around the organism

Within this open meshwork are found a number of matrix materials, chiefly polysaccharides
8 of 19
Cell Wall Peptidoglycan
They include the immunologically active substances which determine the antigenic specificity of certain organisms (e.g. the C polysaccharide and M protein of species of Streptococcus)

One group of these matrix is the techoic acids: highly acidic substances present only in the cell walls of gram-positive bacteria

The cell wall peptidoglycan is the target of the B-lactams, glycopeptides, bacitracin, D-cycloserine and fosfomycin

They all inhibit cell wall peptidoglycan synthesis

The different B-lactams target different enzymes (penicillin-binding protein)

B-lactams and glycopeptides interfere with the late stage of cell maturation (cross-linking)

Bacitracin, D-cycloserine and fosfomycin interfere with early stages of cell synthesis
9 of 19
Cytoplasmic Membrane
The cytoplasm is bounded by a plasma membrane which is distinct from the enveloping cell wall

The chemical composition of the plasma membrane is similar to that of the mammalian cell membranes and includes 40% lipid (much in the form of phospholipids), 60% protein and small amounts of carbohydrates. Sterols are absent
10 of 19
Cytoplasmic Membrane
The plasma membrane is the effective permeability barrier of the cell regulating the inflow and outflow of metabolites to and from the protoplast

The membrane is semi-permeable. Generally, only low moleculae weight materials can penetrate to the inside of the cell

The membrane contains many proteins/enzymes essential to the bacterium survival; e.g the proton motive force that generates adenosine triphosphate (ATP; energy)

The plasma membrane is the target of very few antibiotics and is also the target of antimicrobial peptides

Polymyxins (polymyxin B), colistin and daptomycin. Polymyxin B and colistin affects membrane permeability. Daptomycin affects membrane function
11 of 19
Efflux Proteins
12 of 19
Gram-Negative Bacteria
Periplasmic Space

The periplasmic space of gram-nagative bacteria contains exoenzymes called periplasmic enzymes, e.g. penicillinase hydrolyses and thereby inactivates penicillin - antibiotics

Outer membrane

The outer membrane is composed of a layer of lipopolysaccharides (LPS) and one layer of phospholipids

LPS component (lipid A) is an endotoxin (septic shock syndrome)

LPS component (carbohydrate) important for identification/immunology
13 of 19
Cytoplasm
Complicated three-dimensional network of fine fibrils stretching from the plasma membrane to the nuclear mass

It lacks of elaborate endoplasmic reticulum characteristic of the eukaryotic cell

In the bacterial cell the structures devoted to protein synthesis are the ribosomes 

Protein constitutes more than 50% of the dry weight of a typical bacterial cell wall

Almost 90% of all energy the cell utilises in synthesising cell components is used for the manufacture of proteins
14 of 19
Cytoplasm: Ribosomes
Ribosomes are characterised by their sedimentation properties when centrifuged at very high speeds in an ultracentrifuge

Bacterial ribosomes are termed 70s ribosomes, which distinguish them from the 80s ribosomes of eukaryotic cells

Each ribosome is made of 2 parts, and each part in turn is made of two different kinds of macromolecules

ribosomal protein

ribosomes RNA (rRNA)
15 of 19
Cytoplasm: Ribosomes
Many antibiotics inhibit protein synthesis by interacting with the bacterial ribosome:

Tetracylines

Macrolides

Lincosamides

Streptogramins

Aminoglycosides/aminocyclitols

Chloramphenicol

Fusidic acid

Mupirocin

Linezolid

These target sites may be close together leading the problems such as bacterial cross-resistance
16 of 19
Cytoplasm: Inclusion Bodies
Many bacteria form and store granules in their cytoplasm in the form of high molecular weight polymers

glycogen: a storage form of both carbon and energy

polymer of B-hydroxybutyric acid (storage form of both carbon and energy)

Phosphate can be stored as granular inclusions of polymeric phosphate volutin

Protein crystals are sometimes found. Bacillus thuringiensis crystals are used as insecticide 
17 of 19
Cytoplasm: Nuclear Apparatus
Bacteria lack an organised nucleus but they possess DNA

The chromosome exists as a closed circle in all bacteria and is not surrounded by a nuclear membrane

In addition some bacterial cells possess a short length of extrachromosomal DNA in the form of a plasmid

Plasmids range in size from approximately 0.1 to 10% of the chromosome

Plasmids often play an important role in the transfer of genetic material between bacteria
18 of 19
Cytoplasm: Nuclear Apparatus
Many antibiotics inhibit the synthesis of nucleic acid, often indirectly

Quinolones (DNA gyrase - DNA replication and transcription inhibition)

Rifampicin (RNA polymerase - transcription)

Sulphonamides and trimethoprim (folic acid synthesis)

Nitrofurantoin, mitrodinazole (DNA interactions)
19 of 19